New Zealand's largest rural land syndicator MyFarm today reports strong growth in assets under management and an acceleration in returns to investors.
Its annual Track Record of Returns report shows MyFarm's portfolio of primary sector assets under management grew from $52.5 million in 2017 to $490 million at the end of 2021. These assets have meanwhile contributed annual combined cash and capital growth to investors over the five-year period of 11.39%*.
The report also shows these returns are accelerating driven by strong capital appreciation and as investments transition from development to the point where they are generating cash for investors as well as capital growth. Indeed, net returns annualised for the past three years are 17.22% p.a. which is ahead of the NZX Property Index benchmark of 12.14% p.a.
MyFarm CEO Andrew Watters says: "Economic conditions and high orchard and farm gate prices have spurred investors to diversify and increased demand for real assets.
"We are delighted with the progress we are making, in terms of both the interest we are seeing in our rural property and permanent crop syndicates and the returns we are delivering to our investors as the portfolio starts to deliver on its potential.
"Total returns to investors across the portfolio are already compelling and this is despite development properties making up a quarter of assets under management and are yet to deliver cash returns as harvests are yet to commence."
MyFarm's $644 million portfolio now consists of 36 syndicates across 11 different sectors including vineyards, apples, avocados, kiwifruit, hops, cherries, Mānuka honey forests, and rural commercial property.
In 2021 MyFarm completed 10 transactions, which saw investors purchase $136 million of assets. This included $30 million for two kiwifruit orchards purchased by Gold Income LP and MyFarm's first Carbon forestry offering, CQuest which has raised over $13.5 million of investor equity.
Watters says MyFarm investors have benefitted from the maintenance of operating margins through record orchard, vineyard and farm gate returns in most cases, despite significant production cost increases.
"This result is a great endorsement of our ability to identify and source assets that deliver investors the returns they expect. We have a track record for investing at the right time, when we can deliver investment performance but before significant asset price appreciation."
He says there has been significant capital uplifts for rural property driven by record low interest rates and negative real returns for many other asset classes.
"A great example is the independent valuations of 10 MyFarm kiwifruit orchards purchased prior to 2020. This portfolio has increased in value by $40 million since purchase – on average the growth has been 22% p.a."
MYFARM NET RETURN AFTER FEES 2017-2021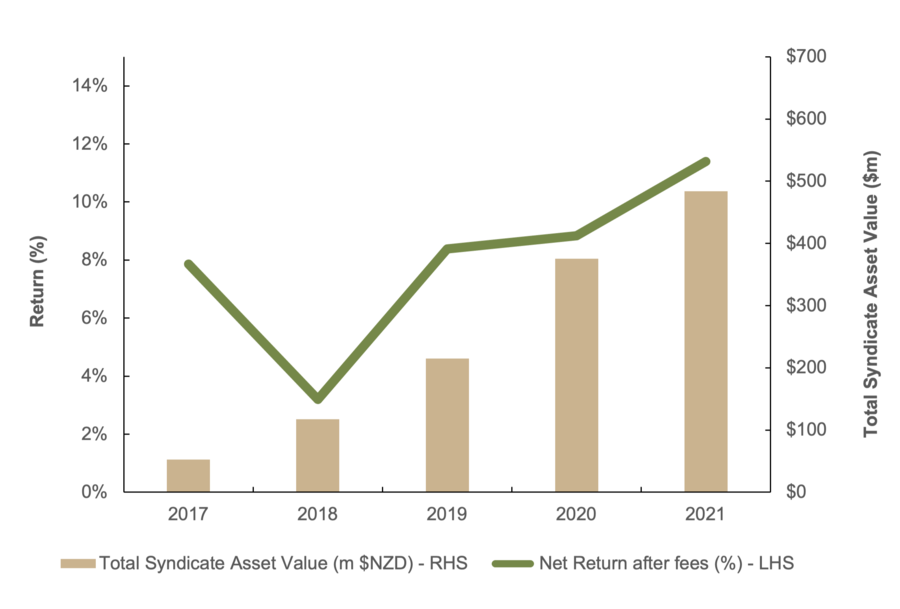 *The return period covers 1st January 2017 through to 31st December 2021. The returns are after all MyFarm fees have been paid but do not include taxation. MyFarm prepared the track record return in compliance with Global Investment Performance Standards (GIPS®).
VIEW TRACK RECORD REPORT HERE.

For more information:
Andrew Watters
Chief Executive
MyFarm
029 440 6605
andreww@myfarm.co.nz